Send Inquiry
Clomiphene Citrate IP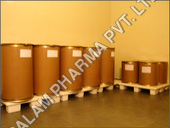 Clomiphene Citrate IP
Product Code : CP
Brand Name : PALAM
We are emerging as one of the fastest growing companies engaged in offering our clients Clomiphene Citrate IP. At our sound processing unit, we formulate this medication using high quality compounds. This medication is used to treat infertility in women. It works by stimulating an increase in the amount of hormones that support the growth and release of a mature egg. This medication is not recommended for women whose ovaries no longer make eggs properly. Clomiphene Citrate IP triggers the brain's pituitary gland to secrete an increased amount of follicle stimulating hormone which later initiates ovulation.
Name of Product: CLOMIPHENE CITRATE BP

Formula: C26H28ClNO,C6H8O7
Mol. Wt.: 598.1
Sr. No.

Analysis

Specification

1

Description

White or Pale yellow, crystalline powder

2

Solubility

Slightly soluble in water, sparingly soluble in alcohol

3

Identification:

A:

B:

By infra-red absorption spectrum

A deep red Colour is produced.

4

Water

Not More than 1.0 %

5

Related Substances

Not more than 2.5 % ( Total Impurity)

6

Z-ISOMER

Between 30.00 % and 50.00 %

7

Assay

Clomiphene citrate contains not less than 98.0 per cent and not more than 101.0 per cent of calculated on the anhydrous substance.
Category: Used Mainly in Female Infertility Due to Anovulation.
Structures