Send Inquiry
Clomiphene Citrate USP chemicals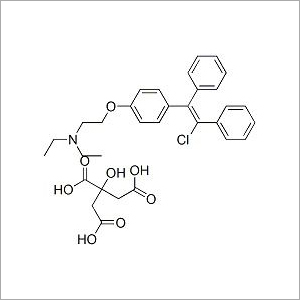 Clomiphene Citrate USP chemicals
Holding a highly reputed and trusted market standing, we are engaged in offering our clients Clomiphene Citrate USP Chemicals. These medications are used to treat infertility in women. They work by stimulating an increase in the amount of hormones that support the growth and release of a mature egg. We formulate these chemicals under the strict inspection of expert supervisors using high quality compounds. These medications are orally administered, non steroidal, ovulatory stimulant that act as a selective estrogen receptor modulator (SERM). Clomiphene Citrate USP Chemicals are known for having both estrogenic and anti-estrogenic properties.
Name of Product: CLOMIPHENE CITRATE BP

Formula: C26H28ClNO,C6H8O7
Mol. Wt.: 598.1
Sr. No.

Analysis

Specification

1

Description

White or Pale yellow, crystalline powder

2

Solubility

Slightly soluble in water, sparingly soluble in alcohol

3

Identification:

A:

B:

By infra-red absorption spectrum

A deep red Colour is produced.

4

Water

Not More than 1.0 %

5

Related Substances

Not more than 2.5 % ( Total Impurity)

6

Z-ISOMER

Between 30.00 % and 50.00 %

7

Assay

Clomiphene citrate contains not less than 98.0 per cent and not more than 101.0 per cent of calculated on the anhydrous substance.
Category: Used Mainly in Female Infertility Due to Anovulation.
Structures