Send Inquiry
Dicyclomine Hydrochloride USP Chemicals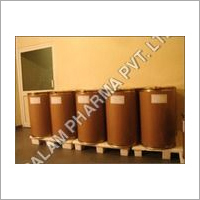 Dicyclomine Hydrochloride USP Chemicals
These chemicals are used to treat a certain type of intestinal problem called irritable bowel syndrome. Creating a striking mark in the industry, we have earned the name of being a highly reliable organization engaged in offering Dicyclomine Hydrochloride USP Chemicals. They are a muscarinic antagonist used as an antispasmodic and in urinary incontinence. These chemicals have little effect on glandular secretion or the cardiovascular system. They are known for having some local anesthetic properties. To comply with set safety norms, we use fionest quality compounds to process these chemicals. Dicyclomine Hydrochloride USP Chemicals are effective in gastrointestinal, biliary, and urinary tract spasms.
Dicyclomine Hydrochloride IP/BP/USP Dicyclomine Hydrochloride is 2-diethylaminoethyl- bicyclohexyl-1-carboxylate hydrochloride

Formula: C19H35NO2, HCl

Category: Antispasmodic.

Mol. Wt.: 345.95

Dose: 30 to 60 mg daily, in divided doses. If used as an oral solution and the solution is required to be diluted, the diluted solution should be freshly prepared.


Analysis

Specification

Description

White or almost white, crystalline powder; odourless or almost odourless.

Solubility

Freely soluble in ethanol (95%) and in chloroform; soluble in water; practically insoluble in ether.

Identification:

A:

By infra-red absorption spectrum

B:

To 3 ml of a 0.1% w/v solution of sodium dodecyl sulphate, add 5 ml of chloroform and 0.05 ml of a 0.25% w/v solution of methylene blue, mix gently and allow to separate; the chloroform layer is blue. Add 20 mg of the substance being examined dissolved in 2 ml of water, mix gently and allow to separate; the aqueous layer is blue and the chloroform layer is colourless.

C: Chloride Test
Dissolve 10 mg in 5 ml of water and add 0.2 ml of 2M nitric acid and 0.5 ml of silver nitrate solution; a white precipitate is produced.

D: Melts
Between 172o and 174o.

Related Substances

Any secondary spot in the chromatogram obtained with solution (1) is not more intense than the spot in the chromatogram obtained with solution (2).

Sulphated Ash

Not more than 0.1%.

Loss on Drying

Not more than 1.0%, determined on 1 g by drying in an oven at 105o

Assay

Dicyclomine Hydrochloride contains not less than 99.0 per cent and not more than 101.0 per cent of C19H35NO2,HCl, calculated with reference to the dried substance.