Send Inquiry
Fluoxetine Hydrochloride USP chemicals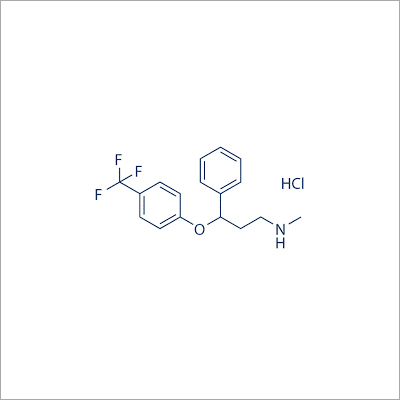 Fluoxetine Hydrochloride USP chemicals
Product Code : 11
Brand Name : PALAM
We take immense pleasure to introduce ourselves as a trusted organization engaged in offering Fluoxetine Hydrochloride USP Chemicals. These chemicals are salt form of fluoxetine, a diphenhydramine derivative and selective serotonin reuptake inhibitor. They are known to have antidepressant, antiobsessional and antibulimic effects. Fluoxetine binds to the presynaptic serotonin receptor resulting in negative allosteric modulation of the receptor complex, thereby blocking recycling of serotonin by the presynaptic receptor. We use best quality compounds, procured from trusted vendors to process these Fluoxetine Hydrochloride USP chemicals. These chemicals are used for the treatment of major depressive disorder, obsessive-compulsive disorder, bulimia nervosa, panic disorder, and premenstrual dysphoric disorder.

FLUOXETINE HYDROCHLORIDE USP
Fluoxetine Hydrochloride is Benzenepropanmine, N-methyl- -[4-(trifluoromethyl)phenoxy]-,hydrochloride
Formula: C17H18F3NO,HCl Category: Antidepressant.
Mol. Wt.: 345.79
Analysis

Specification

Description

White to off-white Crystalline Powder

Solubility

Sparingly soluble in water and in dichloromethane, freely soluble in alcohol and in methanol.

Practically insoluble in ether.

Identification:

A:

B:

By infra-red absorption spectrum

Gives the reactions of chlorides,

Water

Not More than 0.5 %

Heavy Metals

Not more than 0.003 %

Sulphated Ash

Not more than 0.1%

Related Compound

Total impurities NMT 0.5 %

Organic Volatile Impurity

To Comply the test


Assay

Fluoxetine Hydrochloride contains not less than 98.0 per cent and not more than 102.0 per cent of : C17H18F3NO,HCl, calculated on the anhydrous basis.